End-to-End Solutions for Smarter Parking Management
Do more with less. Maximize sales and revenue with the most innovative tools in the industry. Future-proof your operations with the leading technology.
New schedules call for new parking options. Custom programs can help you retain customers and tenants that no longer need a full monthly pass.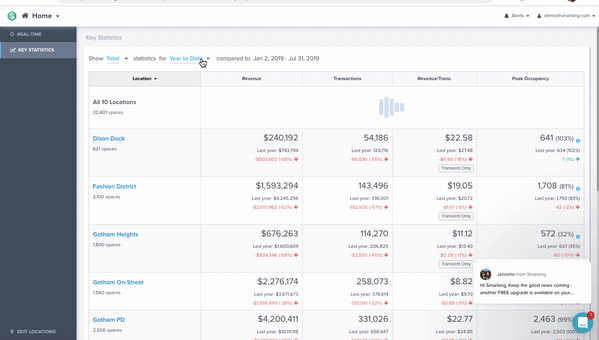 Monitor your locations in real-time
View your real-time occupancy, revenue, and transactions per location, and get ahead with an automatic 14-day projection
Get notified when a garage needs your attention
Get alerts directly on your phone when the occupancy rises or falls below a certain threshold - or any other anomalies occur
Access automatic, data-driven oversell recommendations
Safely oversell with targeted suggestions based on your location's unique usage patterns
Track your revenue against your budget
AI-empowered daily budget tracking helps you track your revenue at a granular level and adjust your budget as needed
That's only the beginning, there are so many more features to help you identify revenue opportunities and curb costs. See it live 👇🏼
Centralized, visualized data for easy, real-time access to the performance of your parking.
​
Learn more about our SmartPass.
SmartPass offers flexible parking permits you can Check out the latest locations where you can use your SmartPass including California, Illinois, Texas and Ohio. Discover how we make parking easy and convenient for the hybrid workforce.
"Smarking gives our garage and regional managers the tools to run an efficient and more profitable business."
Russ Davis, Unico Properties
"When we select operators to manage our parking facilities, previous experience working with Smarking is an important parameter."
Christina Murray, Premier Parking
"It used to take me 3 hours per day to run the reports from our PARCS. Now I can get them immediately. I can also make staffing and pricing decisions in real-time."
Maximize the value of your PARCS
& increase revenue