With Smarking, all of your parking locations are on one platform. Get real-time visibility into your key parking metrics, regardless of your hardware system. Compatible with 400+ data sources. Centralize your data and streamline operations to save time and uncover opportunities.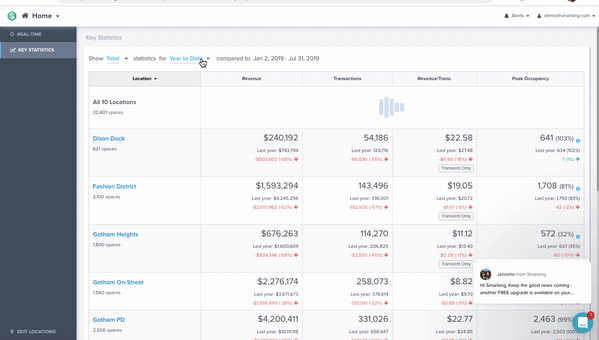 Centralize Your Data and Automate Processes
Uncover Key Insights for Data-Driven Decisions
Get the insight you need to make pricing decisions, allocate staffing needs, and better understand your consumer behavior with real-time visibility into the performance of your locations.
​
Success Stories From Industry Leaders
The software is just the beginning. We provide you with full support to ensure you meet your objectives.
Custom Reports & Dashboard Views
Understand your customers parking behavior to make better business decisions, with granular reports as needed, such as: per user type (contract/transient), price tier, PARCS, monthly groups, etc.
Rate Change and Price Elasticity Analysis
We'll bring forth the insights needed to help you make better pricing decisions. We're there every step of the way providing demos, consultations, and on-site training as needed.
Account Reviews to Uncover Opportunities
Think of us as your in-house parking consultant. With our deep industry expertise, we can support your yield management goals, help you enact policy changes, increase revenue, etc.
"Smarking gives our garage and regional managers the tools to run an efficient and more profitable business."
Russ Davis, Unico Properties
"When we select operators to manage our parking facilities, previous experience working with Smarking is an important parameter."
Christina Murray, Premier Parking
"It used to take me 3 hours per day to run the reports from our PARCS. Now I can get them immediately. I can also make staffing and pricing decisions in real-time."
The Industry's First Real-Time Benchmark Tool
​An instant view of your locations performance against the market - at a national or local level. Identify opportunities or competitive gaps at your locations with real-time access to the performance of the parking industry.
​
Keep a pulse on the market to quickly react, adapt, and meet the requirements of the changing market demands.
​
Get 3-Months Free: Business Intelligence