With Smarking, all of your parking locations are on one platform. Get real-time visibility into your key parking metrics, regardless of your hardware system, to make pricing decisions, allocate staffing needs, and better understand consumer behaviors.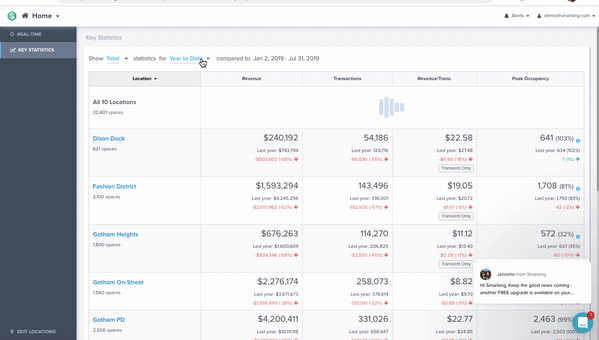 " It used to take me 3 hrs/day to run the reports from our PARCS, as our clients are really interested in how occupancy and price change day-to-day. Now, I can get them immediately. I can also make data-driven decisions on staffing and pricing for an event day. "
CHRISTINA MURRAY, GENERAL MANAGER - PREMIER PARKING
Business Intelligence for Parking Management
Key Capabilities of Smarking's Business Intelligence
Focus on the locations that need your attention, without losing sight of your portfolio
Customized to highlight the metrics most relevant to your business. Anomaly detection can alert you on specified occupancy levels and preferences.
This unique feature uses your historical peak occupancy to provide you with a specific oversell recommendation for your location.
Get Data-Driven Oversell Recommendations
View the performance of your location with granular breakdowns such as parker date, date range, YOY comparison, and more.
View Real-Time Revenue, Occupancy, and Transaction Metrics
View Competitor Pricing & Get Alerts
See your competitors parking rates on various online sales portals and receive price change alerts.
The system analyzes historical and real-time data to predict future occupancy and revenue for up to 30 days in advance.
Automatic Revenue & Occupancy Projection
Understand visitor behavior by viewing duration distribution by selected date range and by parker segmentation (transient, contract, or aggregator)
The software is just the beginning. We provide you with full lifecycle support.
Think of us as your in-house parking consultant. With our deep industry expertise, we can support your yield management goals, help you enact policy changes, increase revenue, etc.
We understand the challenges of organization-wide technology adoption and we're there every step of the way (training, consultations, on-site demos, private webinars, etc.)
Lean on us for marketing support ​
Need to evaluate your ROI? We'll measure and document your success to support your marketing efforts and help you grow your business.
"Now we know where we can increase revenue, where we can cut costs, and what could happen if we change rates or switch equipment. Smarking helps us make decisions."
Smarking is the leading BI provider with the expertise to:
Extract parking data, regardless of the equipment type

Mine the data to enable actionable insights

Clean your data to identify and remove inaccuracies

Understand the nuances of on-going support to maintain data integrity through equipment failures, system updates, operational interruptions, etc.
of your raw data is unusable for actionable insights, on average
#1 Parking Data Platform, Powering 2,500+ Locations
Connect your locations, centralize your data
Compatible with 40+ data sources/400+ versions. No hardware needed.
Rely on clean, granular, real-time data
Reliable data requires ongoing maintenance to ensure it's cleaned from open tickets, offline equipment, etc.
Powerful, user-friendly dashboard
View all of your locations in one place, focus on the KPI's that matter most, and easily generate the reports you need
See success stories from industry leaders to increase NOI, revenue, improve operational efficiency, inform parking policy, and more