Centralize your data and manage parker segments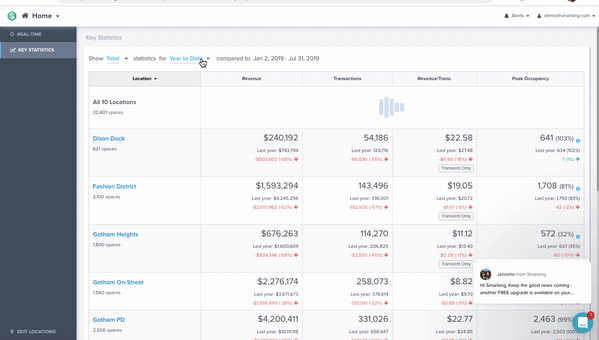 Understand the new normal and accelerate recovery
Uncover key insights for data-driven decisions
Gain insight on which locations are on-track and which require additional effort with visibility into the real-time revenue, occupancy, and transaction performance of your locations.
​
A powerful, granular view of your locations
Get the insight you need to make pricing decisions, allocate staffing needs, and better understand your consumer behavior with detailed breakdowns.
Parking industry benchmark
An industry first: a holistic, real-time view of the parking market. Instantly benchmark your locations against 2,000+ locations across North America with 1-click.
"It used to take me 3 hrs/day to run the reports from our PARCS, as our clients are really interested in how occupancy and price change day to day. Now, I can get them immediately. I can also make data-driven decisions on staffing and pricing for an event day."
​
(update quote for something on monthly parker management)
- Christina Murray, General Manager - Premier Parking
Daily Email Digest & Alerts
Customized to highlight the metrics most relevant to your business. Anomaly detection can alert users on specified occupancy levels.
This unique feature uses your historical peak occupancy to provide you with an oversell recommendation per location.​
Stay competitive with visibility into competitor locations pricing on various online sales portals and get price change alerts.
Key Performance Indicators
Get the visibility you need with a granular breakdowns such as: date range, 1-click YOY comparison, parker type, system type and more.
The system uses your locations' historical and real-time data to predict future occupancy, transaction and revenue for up to 30 days.
Schedule a meeting to see if your locations qualify
See various use cases for BI such as: to achieve revenue goals, improve operational efficiency, increase NOI, implement city policies, and much more